Gassan soba
1bag (180grams)
The origin of Tamaya Seimenjo, Gassan soba is our essence of dried noodle that has been passed down since becoming established.

Gassan soba is our most historic dried noodle.

Although it is 30 percent soba, it is popular for its taste that never grows old.

It is a staple food that can be eat every day.

This soba has been loved for many years as a standard symbol of Tamaya Seimenjo.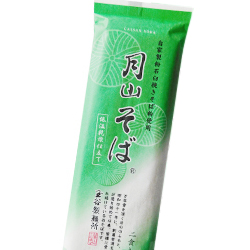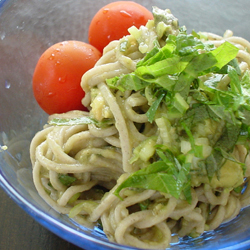 Category
dried noodle
Number of meals
2
Contents
180grams(90grams x 2bundles)
Ingredients
Wheat flour (manufactured in Japan)、Buckwheat flour、Salt
Amount of buckwheat flour
30%
Noodle color
White Black
Noodle thickness
Thin Thick
Texture
Soft Hard
Boil time
about 6 minutes
Best before
10 months from month of manufacture
Preservation method
Please store it in a cool, dark place to avoid direct sunlight.
Please consume as soon as possible after opening the package.
Notes